The history of Staplehurst URC stretches back to the non-conformist congregation mentioned in 1640 and then onwards to the present day.
A Brief History of Staplehurst URC
The first mention of a nonconformist Christian congregation in Staplehurst was in 1640, and there has been worship on this site since at least 1672.
Originally Presbyterian, the Church was described as Independent in the 18th century and as Congregational in the 19th, while it became part of the United Reformed Church in 1972.
Its outlook has never been narrowly sectarian – John Wesley preached here several times in the 18th century and for years afterwards Methodist preachers regularly filled the pulpit. William Jull, a benefactor and deacon in the 19th century, also supported many Baptist churches in Kent. A list of our ministers may be found here. Our congregation today comes from many backgrounds besides the URC, including Anglicans, Baptists, Methodists and Presbyterians.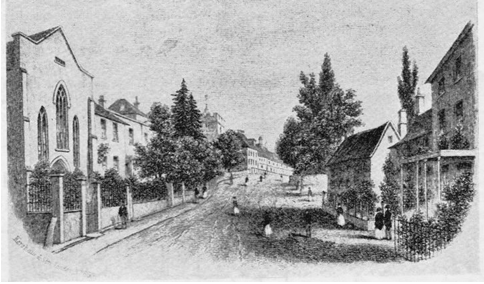 The High Street and the then Congregational church in the 1860s from an engraving
In more recent years the URC has been part of Churches Together in Staplehurst, which fosters ecumenical cooperation.
Our buildings have been altered over the years to serve our witness to each generation. The rambling timber meeting house of about 1700 was replaced by a brick chapel – the core of our present building in 1825. Victorian times saw the addition of schoolrooms for the expanding work with children, and in 1889 a new frontage to the High Street. The Margaret Howard Hall (named after our first woman minister) was opened in 1965.
The High Street and the then Congregational church in the 1930s. The ventilators on the roof were removed following a near miss by a V1 in 1944
An extensive remodelling in 2007-8 united modern and traditional features, and will help our witness to Christ in Staplehurst in the 21st century.